Rising author and APSU freshman leaves a mark in the literary world
By: Zoe Farren November 9, 2023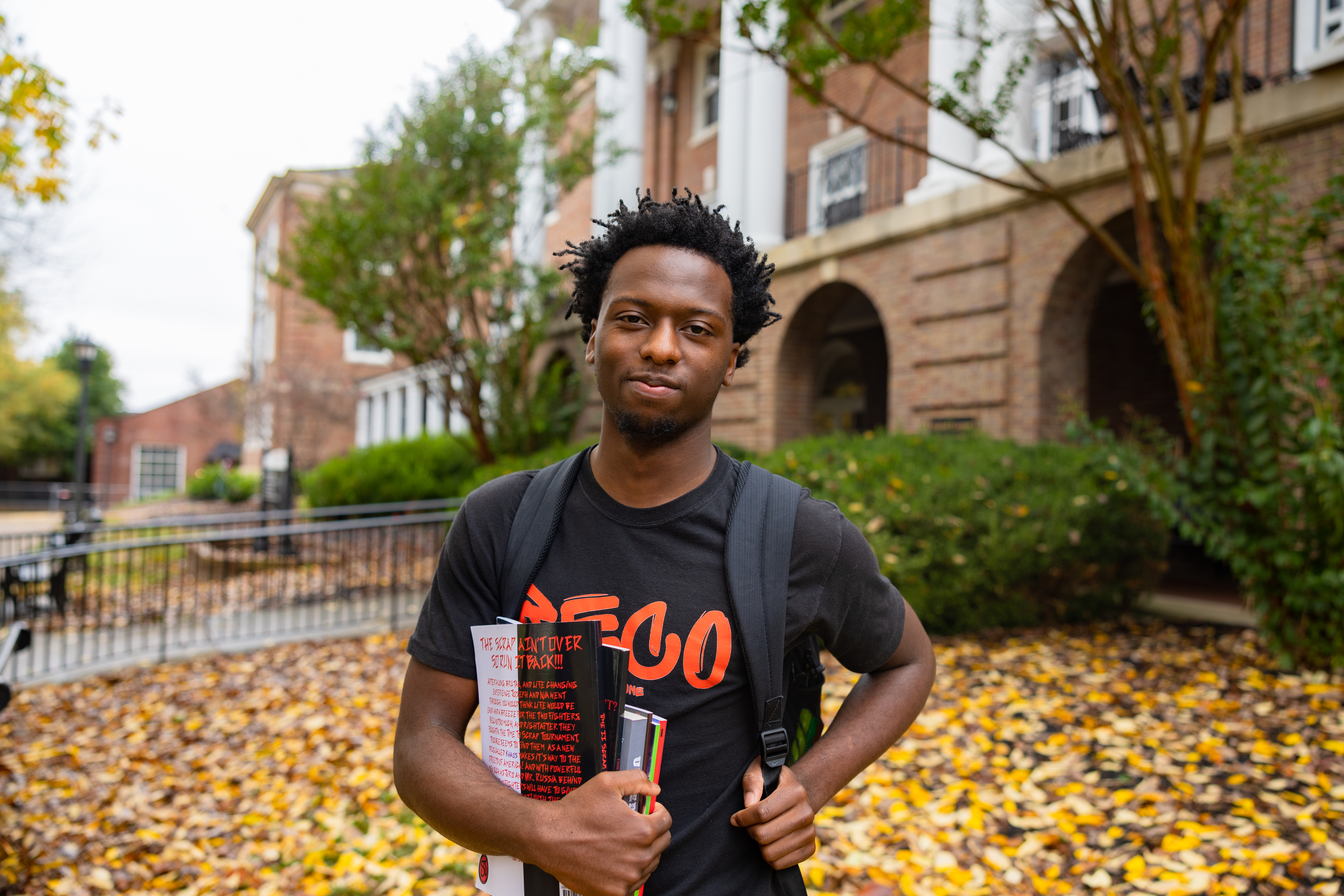 Photo: Christopher Steadman recently self-published six books for young adults.
CLARKSVILLE, Tennessee – Austin Peay State University (APSU) first-year student Christopher Steadman recently self-published six books for young adults. His literary journey began during high school, and his passion for writing has continued to flourish while pursuing higher education at APSU.
"If you have a message that is important to you, then write it. You never know who will relate," Steadman said.
At the age of 18, Chris released his first book on Amazon, Time to Scrap, which is available in a variety of formats. The book has sold over 1,100 copies and has a five-star rating on Amazon. The first-year student is self-taught and has excelled in many creative aspects, which enabled him to go through the process of owning his copywrites.
As an English major with a focus on creative writing, Chris chose to attend APSU because of his familial ties and having an aunt who advised him about the school. Still, he decided on the comfort the school offers for incoming traditional first-year students. Chris is a member of the Creative Writing Club at APSU and spends most of his time in the Foy Fitness Center or the Felix G. Woodward Library.
"Christopher's passion for writing, his unwavering dedication to his education, and his commitment to his family are truly inspiring," Dr. Buzz Hoon, dean of the College of Arts and Letters, said. "In my time with him, I learned that outside of his writing, he has built his own website, designed the logo, and created a company. His achievements showcase not only his talent but also his incredible work ethic. Christopher has demonstrated that he is a determined and creative writer and that this is just the tip of the iceberg."
Photo: Christopher Steadman recently self-published six books for young adults.
Writing became a more significant part of Chris's life during the pandemic. Throughout his childhood, Chris and his brother created stories that they acted out for their family, and unlike other children, they wrote in a journal. These parables have now been the inspiration for his recent books. All the downtime during COVID led many to use social media more heavily, but not Chris. He was tired of video gaming and began journaling, transforming it into a Word document. And this is where it all began!
Time to Scrap
Although he initially wanted his stories to take the form of comics, Chris discovered that the process of working with artists for illustration was a bit out of his budget and more than the then-high school student could ponder. He then wrote a conventionally formatted book to get his feet wet with the process and created Time to Scrap.
The book follows a character named Joseph, an 18-year-old, who enters a fighting tournament to win five million dollars and turn his and his family's lives around. Through faith and changing his mindset, he obtains supernatural powers that help him excel in the tournament. The genre blends fantasy and realism but is written in a descriptive style. Chris expresses that many who read his writings claim, "Many people tell me that it feels like they are watching a movie, that they can see the scene in their mind."
Inspiration
Besides his upbringing, his biggest inspiration is the New York Times number one bestseller, The Hate U Give by Angie Thomas, written about a black community and culture. He spoke about how it was so honest, breaking the barriers of social norms. He became fascinated with her background and was fortunate enough to have a junior high school teacher contact her on his behalf. Thomas was more than happy to show her support, as she bought and promoted his book on her Twitter page, which was one of the greatest honors in his career.
Besides self-publishing six books, Chris has built a company, Steadman Entertainment, with his brand RECO (Real, Entertaining, Creative, and Original Stories). He has started with books but has plans to expand into video games, shows, movies, music, and more. His latest releases are Super Kidz, Heaven's Fate, and Rage. To learn more, visit www.steadmanreco.com to see what he is working on and purchase his books.